BRITISH COUNCIL
the British Council is the UK's international organisation
for cultural relations and educational opportunities.
They are on the ground in six continents and over 100 countries,
bringing international opportunity to life, every day.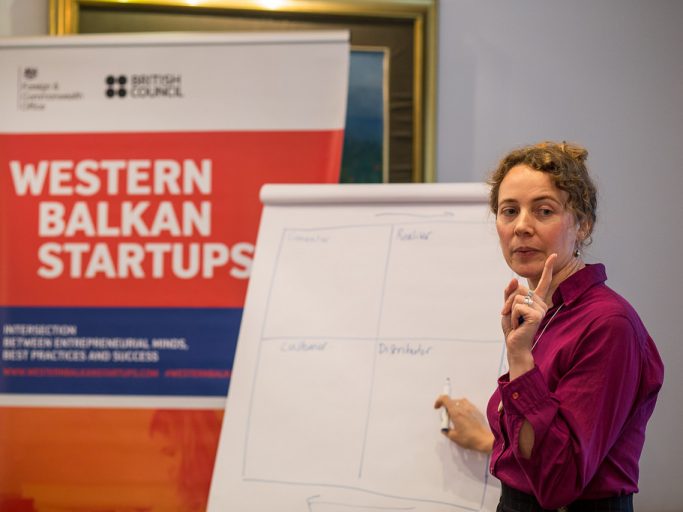 to create a project that will connect together the entrepreneurial ecosystems in the countries from the Balkan region with focus on Macedonia, Serbia, Kosovo, Montenegro and Bosnia and Herzegovina
to perform proper research and map out all the key players in each of the abovementioned ecosystems
to create a report that will be presented globally
we met with more than 100 entrepreneurs from the Balkan regions and identified enormous pool of information that later on we organized the information into local guides for each of the capital cities of the primary countries covered by this project
we created a visual identity for the project
we created a website, as a one-stop shop for all the resources, structured as a local city entrepreneurial guides
we drove a traffic to the website from the Balkan Region and presented the numbers to the official representatives of the British Council
we created a publication - an offline print - that is a sublimation of all the work, and all the valuable resources
the publication was officially presented to the public and distributed to the local British Council locations in the Balkan Region
5 different events to promote and encourage entrepreneurship on which the participants had a chance to visit London and learn from UK experts
GSIX has helped us with developing a unique design of our Western Balkans Startup platform and promoting digital presence in all six countries in the region. We worked with them to create a wealth of resources and information, bringing our creative startup communities closer together and more connected to their UK partners. We continue to work with GSIX again this year, too.
– Zarko Koneski, British Council Macedonia
Build your startup and gain unique practical skills